The Xenophobe's Guide to the Icelanders
by Richard Sale
A guide to understanding the Icelanders which takes an insightful, humorous look at their character and values.
The Xenophobe's Guide to the Icelanders
is now available on Kindle
CLICK HERE FOR KINDLE STORE UK
CLICK HERE FOR KINDLE STORE USA
Do as you always did
Being new to the concept of town-dwelling, the Icelanders still find its rules difficult. If you have been used to riding into the nearest village and hitching your horse to a rail outside the shop you want to visit, you expect to do the same with your car.
Bold and beautiful
Not only has an Icelander held the title of World's Strongest Man, but there have been several Icelandic Miss Worlds. There have also been a surprising number of Icelandic chess grandmasters, and Iceland has more writers and artists per capita than any other country on earth. These facts reinforce the Icelanders' belief that they are a nation of strong, beautiful and intelligent people.
The joy of the jibe
The essence of Icelandic conversation is the insult. Icelanders are born with a talent for it and use it with ease from an early age. Because of their farming and fishing ancestry the most telling jibes involve sheep and fish. It is a very serious matter to refer to someone as a sheep or a codhead.
Give credit where credit's due
Next to their cars and electronic gadgetry, their credit rating is the closest thing to the Icelanders' heart. Credit cards are accepted in all hotels and shops, down to the smallest kiosk. Indeed, if you just want a tube of toothpaste and offer a shop assistant cash, it will be assumed that you have no credit rating at all.
This book is fantastic. I'm Icelandic myself and everything this book states is completely correct and a greatly humorous view of the nation. Apart from a few misspelling Icelandic names and concepts this book is wonderful.
Reykjavik, Iceland
I came across this nifty little book by chance. I've been fascinated by all things Icelandic for a while and this is a fantastic read for anyone who has any interest in the place and people. It would also make an excellent companion to anyone planning travel there too. It's witty, highly informative and fun to read. It provides a useful background to Icelandic life and culture, their national characteristics and customs. You get to learn some really incredible facts as well as their quirky habits. All in all a great book crammed with information and essential reading for anyone planning a trip there or remotely interested in the place.
London, UK
The Xenophobe's Guides raise a smile and give you an understanding of the beliefs and foibles of nationalities.
Glasgow Evening Times
Xenophobe's Guides aim to help us understand our differences.
Daily Express
| | |
| --- | --- |
| Table of Contents | |
Nationalism and Identity
Character
Attitudes and Values
Happy Families
Manners and Behaviour
Leisure and Pleasure
Drinking and Eating
Custom and Tradition
Sense of Humour
Culture
Systems
Culture
Systems
Business and Commerce
Government
Language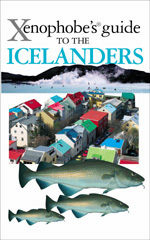 Author: Richard Sale
Format: 96 pages, pb
Published: 01/06/09
Updated: New Edition
Price: £4.99
ISBN: 978-1-906042-36-3
Online eBook. Click on button below to sample.